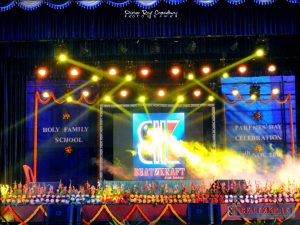 Someone once asked me: "Why do you love music so much?" I replied, "Because it's the only thing that stays when everything and everyone is gone." Music is the strongest form of MAGIC and what better way to relive that magic than BEATZKRAFT.
Like it's said "Vision without Action is merely a dream. Action without Vision passes the time. Vision WITH Action can change the world." Hence I, Anurag Ghosh, present to you my Dream, my Passion, my OWN: BEATZKRAFT – Krafting your Ideas.
A one of a kind Digital. Magical. Experience – in this very heart of the city, Kolkata, where quality is never compromised , affordability is on the go , technology is at its peak and customisation exclusively handcrafted just  for you.
Have an idea of event/party ? But don't know how to execute that? Give us your ideas and we shall weave them into a magical show. Special and Unique.
Budding artist? Wanting to perform? But no events? Why worry?
My passion in music helps me understand what you need. An artist is an entity in itself. Like the flowers of the garden, so crucial yet so delicate. We help to bridge that gap thus leading to huge successful events. We scout raw hidden gems/talents and present them in a "never seen before experience" for you. Unbelievable yet true.
Don't believe us? Here's a little backdrop for you then. Privileged to be schooled in Don Bosco School, Liluah since 13 years and be a part of the famous "Boscotsav – annual fest of our school ". It all started from here. After a few years of assisting industry insiders, it was MY TIME. The small dream of having my own company coupled with my Passion for music – uniting people harbouring the same skills or interest  – fabricating some thing spectacular – led to the birth of BEATZKRAFT officially in 2012. And finally there it was. My first gig – "SPUNK" – a home grown band , now performing internationally , with over a crowd strength of 5000 was a massive hit. Since then there's no looking back.
Over the last 5 years we've covered all the major cities of West Bengal ( Kalyani, Malda, Bardhaman to name a few ) and went to Bihar and Jharkhand too.We provide ample services like
Sound and light logistics.
Artist management.
Event Planning.
Wedding planning.
Photography/ Event coverage/wedding Coverage.
Entertainment Services.

… And so on and so forth. You name it . We have it.
Trust us. Believe in us. Have faith.
" HELP US HELP YOU ".
Let us take you on a journey with the brand
BEATZKRAFT
Krafting your ideas.
Thank you,
Team.